Are you looking for Tyres Size for your vehicle?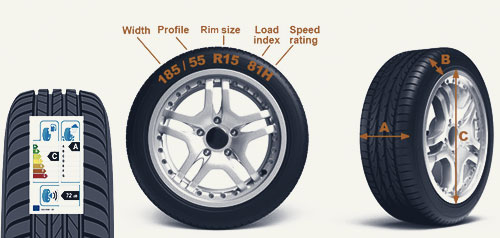 Finding the right tyres for your vehicle is not as complicated as it may seem. All the information you require can be found either in the vehicle's owner's manual
or:
In the driver's door jamb
In the glove box compartment
Inside the petrol tank hatch
How to read a tyre's size
Let's take a look at the tyre size data to understand it better.
We'll be using an example: 225/70/R16 91S.
Width
The first number of the whole sequence represents the width of the correct tyre for your vehicle, measured in millimetres. This is measured from one sidewall to another. So, 225/70/R16 91S - here, 225 millimetres is the required tyre size for your vehicle.
Aspect ratio
The following number you see after the slash mark is the tyre's aspect ratio, which means the height of the tyre sidewalls. It is generally expressed in per cent. In 225/70/R16 91S, the aspect ratio is 70, which means the tyre's height is 70% of its width.
Construction
The letter that comes after the aspect ratio depicts the type of tyre construction maintaining its stability. Two types of tyre construction are available: R means Radial, D means Diagonal or Bias Ply. In this example, the tyre has radial internal construction.
Rim diameter
The following number is the rim diameter code, measured in inches. 16 refers to this tyre will fit a rim whose diameter is 16 inches.
Load index - The load-carrying capacity of the tyre, measured in kilograms. This doesn't tell us the precise number of kilograms the tyre can support, but it refers to a specific load capacity mentioned in the index. In this example, 91 is the load index ratio of the tyre.
Speed rating
The last figure of the series indicates the speed rating, indicated by a letter. A tyre with a speed rating "S" has a speed limit of 118 mph.
Contact us
Now that you know how to read the tyre size correctly, finding the right tyres in the correct size is easy.
Buying tyres Leeds from us - Morley Tyres is now even easier. All you need to do is provide is your car's Reg.-number. Our system will then show the accurate tyre size for your vehicle.
Still not sure? Don't worry! Come directly to our Britannia Road workshop (A650) in Morley, Leeds, LS27 0AR.
For additional information about our tyres and tyre services, you can, of course, also call us on 0113238440. Our experts will be glad to assist you.