Are you looking for All Season Tyres Leeds for your vehicle?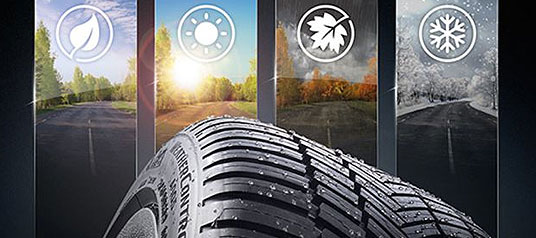 Has your online search for "all-season tyres near me" led you to our website?
You will be please to know that your search can end right here.
On our Morley Tyres and Exhaust website, you will find a large variety of All season tyres (also called All-weather tyres) from many different manufacturers.
All-weather tyres in all price classes
We cater to different requirements and budgets. Whether you want to buy premium-, mid-range- or cheap all season tyres Leeds , you will find them right here – guaranteed!
Online Order
You can now choose and order your new all season tyres Morley, directly from our website. Please enter your car's reg.-number or the tyre size you need for your vehicle into our tyre finder section. It will only take seconds until you can see all the all season tyres in Leeds we have in stock for your particular vehicle.
Select your favourites and book a fitting appointment at check-out.
In the following section, we would like to provide you with some information about this tyre type.
All-season tyres offer a good compromise between summer and winter tyres, even though they cannot compete with the best products of the season-specific tyres, especially when driving on ice and snow.
This is primarily due to technical reasons, as the tread and rubber compounds are fundamentally different for summer and winter. Temperatures and road conditions place different demands on a tyre, and an all-weather tyre always has to cope well with this - a major challenge for manufacturers.
Nevertheless, all-season tyres are well suited for regions with moderate weather conditions all year round.
All-season tyres do not wear out quickly, even though they are always in use.
Therefore, don't forget to check the tread depth from time to time. The legislator prescribes at least 1.6 mm; experts recommend 4 mm. All-weather tyres must offer equally good driving characteristics in hot and cold weather. Aquaplaning in the rain is just as undesirable as problems on ice and snow.
Every year, automobile clubs and trade journals test passenger car all-weather tyres of all price classes for their quality, especially in the tyre sizes R14, R15, R16 and R17.
The results vary widely and should be taken into account when making a purchase decision.
Our Morley tyres team will be happy to help you find an all weather tyre Leeds that ticks all the boxes.
We will happily assist you to save of money.
On the one hand, you only need to buy one set of all season tyres Leeds, and on the other hand, you save the costs of changing your tyres twice a year.
We hope you found this information page useful. In case you have any additional questions or need advice on which tyres to buy, please call us or come to see us at our workshop.
We are here for you.