Are you looking for Tyre Labelling for your vehicle?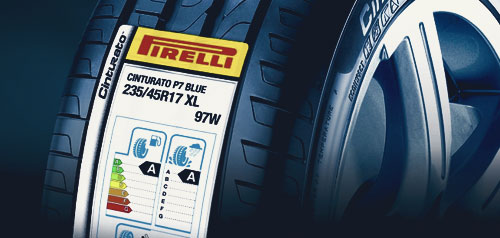 Tyre labels are essential, both from a customer's and manufacturers point of view. Tyre labels were introduced in 2012 by the European Union to provide technical information on tyre safety and the impact they have on the environment. It indicates the quality of the tyre to the consumer. For a tyre manufacturer, tyre labels are a way to circulate the tyre's information at a glance.
Currently, the tyre labels consist of three pictures denoting three different aspects - fuel efficiency, wet grip, and external noise.
The objective of the EU Tyre labelling regulation is to ensure road safety and the environmental efficiency of road transport by promoting safe and fuel-efficient tyres with low noise levels. This regulation aims to allow customers to make more informed decisions when buying tyres for their vehicles.
Fuel Efficiency/Economy
The fuel economy part of the tyre label relates to its rolling resistance.
It represents the amount of energy that your tyres lose when it's spinning due to everyday tear and wear. Tyres with low rolling resistance are more likely to provide better fuel efficiency and get a better rating.
The fuel economy ranges from A to G, where A means the most fuel-efficient tyre, and G represents a poor fuel-efficient tyre. The difference between each rating is around 3-4%.
Wet Grip
A tyre's grip on wet roads represents its braking distance in wet conditions. Several factors affect the stopping distance of a tyre, but the main ones are tyre pressure and grip.
The tyre manufacturers need to balance rolling resistance, which affects fuel economy, and road grip, leading to reduced stopping distance.
The wet grip of a tyre range from A to G. A-rated tyres have the shortest braking distance, and G-rated tyres have the longest stopping distance. The difference between each category is around 2.5 metres when braking at the speed of 50mph.
External Noise
A tyre's noise rating is measured in dB (decibels). This makes car drivers and owners more informed about noise pollution generated from the tyre.
Our goal is to reduce noise from road transport. The noise labels are represented with black sound waves, starting with one sound wave, meaning the lowest noise level and moving up to three sound wave bars representing the noisiest tyres.
Tyre labels information is available here -
Manufacturer's website
Leaflets
Exemptions
This regulation doesn't cover:-
Professional off-road tyres
Studded tyres
Retreaded tyres
Temporary-use spare tyres
Racing tyres
Tyres that have a speed rating of less than 80 km/h
Tyres manufactured before 1 July 2012
Tyres with a nominal diameter smaller than 254 mm or bigger than 635mm
For properly labelled and highly rated tyres, visit Morley tyres. You will find us at Britannia Road (A650), Morley, Leeds, West YorkshireLS27 0AR.
We also retail our tyres online; so, you can conveniently buy car tyres from our website.
To know more about our products, contact us on 01132381440.